Primary Sjögren's Syndrome Associated Lymphoid Interstitial Pneumonia: The Enemy In Shadows
Sjögren's Syndrome and Pneumonia

Abstract views: 31 /

PDF downloads: 21
Keywords:
Sjögren, LIP, interstitial, lung
Abstract
LIP is characterized by the interstitial infiltration of lung tissue, especially the interalveolar septum by polyclonal lymphocytes, plasma cells and histiocytes. This clinical entity is known for its association with primary Sjögren's syndrome (pSS). In this case presentation, we aim to provide an overview of the diagnosis and treatment processes with a clinical example of this rarely encountered condition. A 69-year-old female patient was referred to our rheumatology department with complaints of cough, shortness of breath, widespread joint pain and bilateral widespread cystic lesions and ground-glass opacities in her thoracic CT scan. The patient had no comorbidities other than a history of metastatic renal cell carcinoma, for which she underwent a left pneumonectomy five years ago. Serological tests revealed ANA > 1:320 and SS-A (Ro) positivity. Salivary gland biopsy showed lymphocytic sialadenitis. Due to the irregular, widespread peribronchial distribution of the cystic lesions seen on the thoracic CT, pSS-associated LIP was considered. Bronchoalveolar lavage (BAL) fluid was rich in lymphocytes but did not provide diagnostic information. In light of these results, the patient was started on treatment with methylprednisolone at a dose of 0.5 mg/kg/day and hydroxychloroquine. Azathioprine was added after tapering steroid and methylprednisolone stopped at 6 months. 4-9% of pSS patients are confronting LIP and 30% of underlying medical conditions in LIP is pSS. It should be noted that rare but potentially life-threatening lung involvements like LIP can develop in Sjögren's cases, and, as in our case, it may even be the initial presentation. Current results are indicating improvement with glucocorticoid+DMARD treatment, but randomized controlled studies are strongly needed.
References
Swigris JJ, Berry GJ, Raffin TA, Kuschner WG. Lymphoid interstitial pneumonia: a narrative review. Chest. 2002;122(6):2150-2164. doi:10.1378/chest.122.6.2150
Gupta N, Wikenheiser-Brokamp KA, Fischer A, McCormack FX. Diffuse Cystic Lung Disease as the Presenting Manifestation of Sjögren Syndrome. Ann Am Thorac Soc. 2016;13(3):371-375. doi:10.1513/AnnalsATS.201511-759BC
Cosgrove GP, Schwartz MI. Lymphocytoplasmic infiltrations of the lung. In: Interstitial Lung Disease, 5th ed, Schwarz MI, King TE Jr (Eds), People's Medical Publishing House, Shelton, CT, USA 2011. p.1045.
Cha SI, Fessler MB, Cool CD, Schwarz MI, Brown KK. Lymphoid interstitial pneumonia: clinical features, associations and prognosis. Eur Respir J. 2006;28(2):364-369. doi:10.1183/09031936.06.00076705
Price EJ, Rauz S, Tappuni AR, et al. The British Society for Rheumatology guideline for the management of adults with primary Sjögren's Syndrome [published correction appears in Rheumatology (Oxford). 2017 Oct 1;56(10 ):1828]. Rheumatology (Oxford). 2017;56(10):e24-e48. doi:10.1093/rheumatology/kex166
Ramos-Casals M, Brito-Zerón P, Bombardieri S, et al. EULAR recommendations for the management of Sjögren's syndrome with topical and systemic therapies. Ann Rheum Dis. 2020;79(1):3-18. doi:10.1136/annrheumdis-2019-216114
Hatron PY, Tillie-Leblond I, Launay D, Hachulla E, Fauchais AL, Wallaert B. Pulmonary manifestations of Sjögren's syndrome. Presse Med. 2011;40(1 Pt 2):e49-e64. doi:10.1016/j.lpm.2010.11.002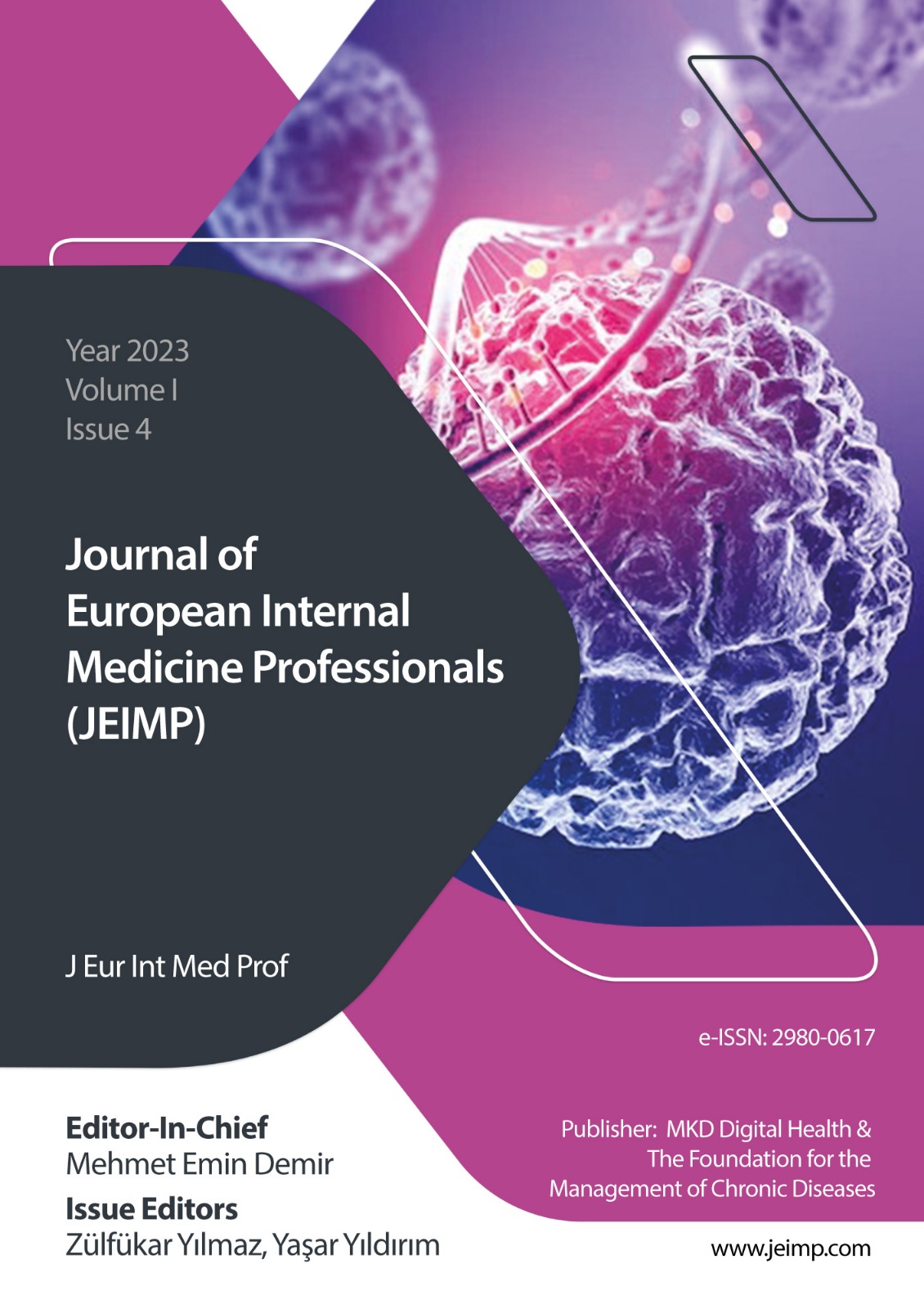 Downloads
How to Cite
Nalbant, M. (2023). Primary Sjögren's Syndrome Associated Lymphoid Interstitial Pneumonia: The Enemy In Shadows: Sjögren's Syndrome and Pneumonia. Journal of European Internal Medicine Professionals, 1(4), 170–172. https://doi.org/10.5281/zenodo.10023365
License
Copyright (c) 2023 Journal of European Internal Medicine Professionals
This work is licensed under a Creative Commons Attribution 4.0 International License.